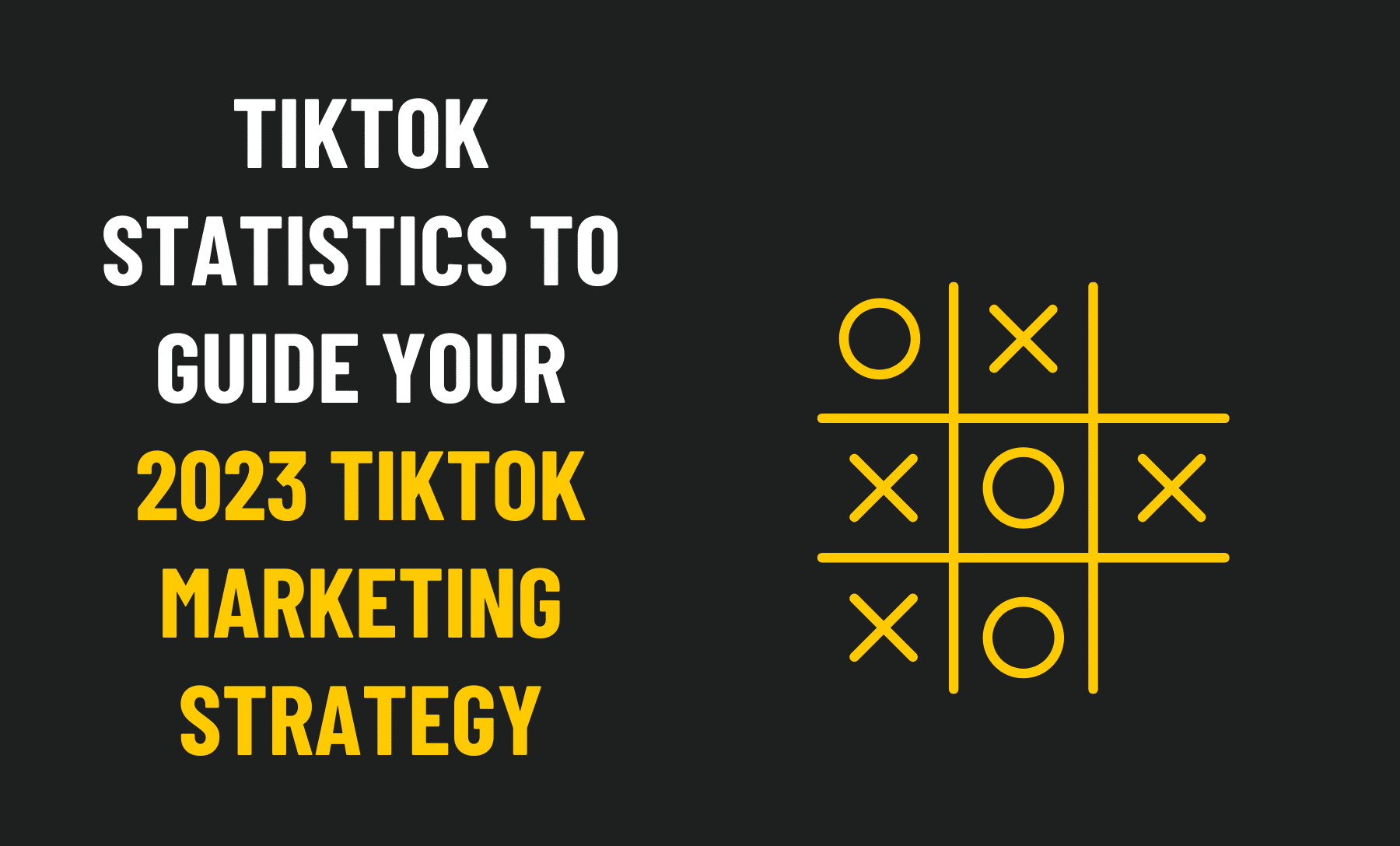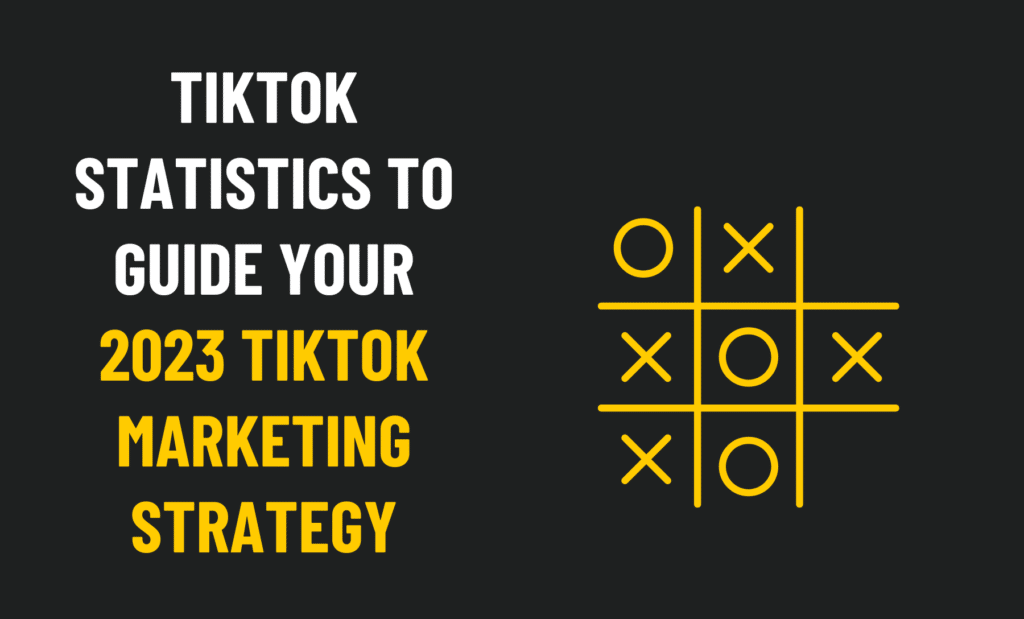 TikTok Statistics To Guide Your 2023 TikTok Marketing Strategy
If you are a digital marketer or digital advertiser, TikTok is getting harder and harder to ignore, whether you love it or loathe it. The app (and its audiences) are bigger than ever after a record-breaking 2021.
TikTok has evolved to include every kind of content and community, despite the fact that many people still view it as a Gen Z platform for dance competitions. Additionally, it will become even more crucial for businesses wishing to engage with customers directly after the introduction of in-app shopping in 2021.
Here are the important TikTok statistics to bear in mind when you create your 2023 TikTok marketing plan.
With 656 million downloads, TikTok was the Most Downloaded App of 2021
That's more than 100 million downloads than Instagram, which came in second place with 545 million downloads.
TikTok had also occupied the top spot for three years in a row. In 2019 there were 693 million downloads, while in 2020 there were 850 million.
TikTok was the most downloaded app in the US in 2021, with 94 million downloads, a 6% increase over 2020, according to Apptopia.
Additionally, TikTok kept up its run of being the highest-grossing app, reaching $2.5 billion in customer spending in 2021.
TikTok is the World's 6th Most Frequently Used Social Sharing Platform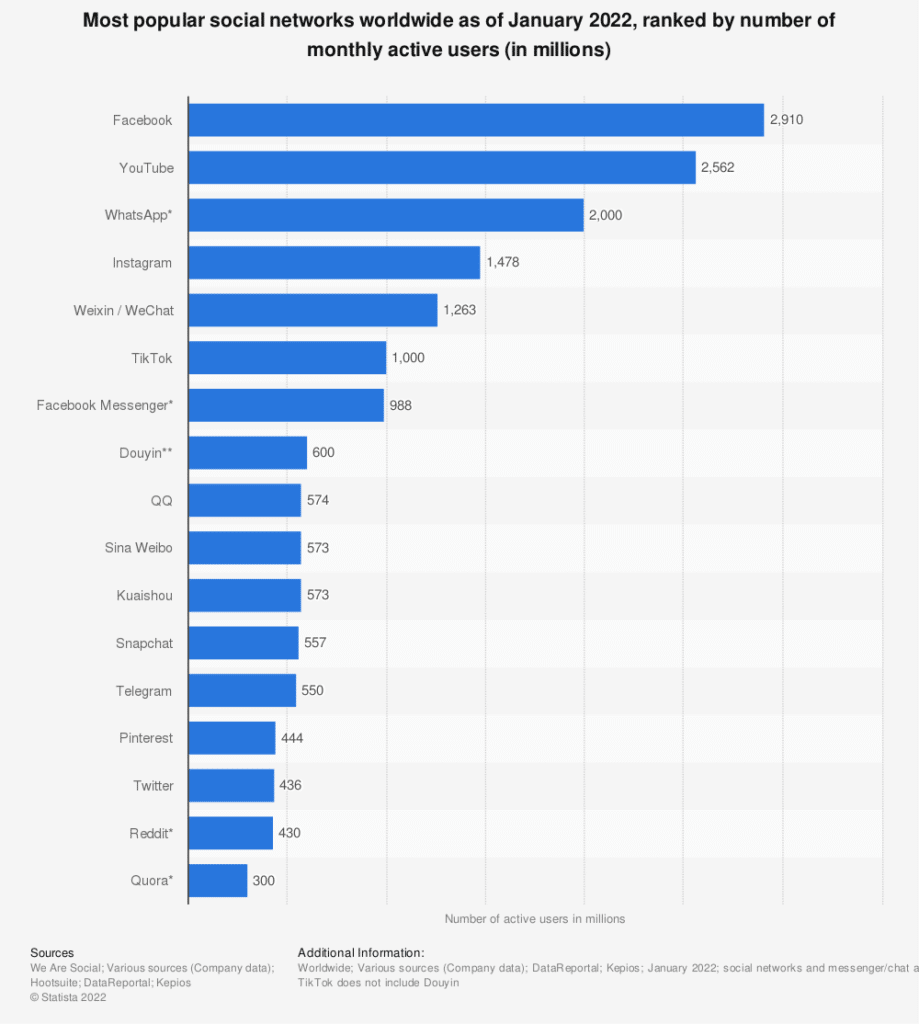 It comes in just behind WeChat, Facebook, YouTube, WhatsApp, and Instagram. It has surpassed Facebook Messenger to take over position 6 since 2021.
There is, however, another angle from which to view these rankings. Number eight on this list is Douyin, which is the name of the Chinese equivalent of TikTok. ByteDance, the app's parent firm, initially released Douyin in September 2016 before releasing TikTok for global audiences in 2017. The two apps have a few minor variations, but they essentially have the same appearance and functionality.
There are 600 million daily active users on Douyin (most apps use monthly figures). The two apps rank fourth on this ranking when combined, ahead of Instagram and WeChat.
TikTok Boasts Over One Billion Active Monthly Users
To say TikTok is flourishing rapidly is an understatement. TikTok welcomes eight new members every second, for a daily average of 650,000 new users. Which is the equivalent of Helsinki's entire population signing up every day.
ByteDance, the parent company of TikTok, announced in September 2021 that they had reached the one billion user milestone, a 45% growth over July 2020. TikTok reached a billion members in just five years as opposed to Facebook and YouTube, which both took eight years to reach that milestone. Additionally, 1.5 billion users are anticipated for TikTok by the end of 2022.
Keen TikTok Users Still Use Other Social Media Platforms Too
Users of social media are active across a number of platforms; those between the ages of 18 and 34 use an average of eight channels each month. Users of TikTok are no different; 99.9% of them claim to use other sites.
Facebook (84.6% overlap), Instagram (83.9% overlap), and YouTube (80.5% overlap) are the three platforms where you're most likely to find TikTok users when they are not endlessly scrolling there.
Gen Z Now Prefers TikTok to Instagram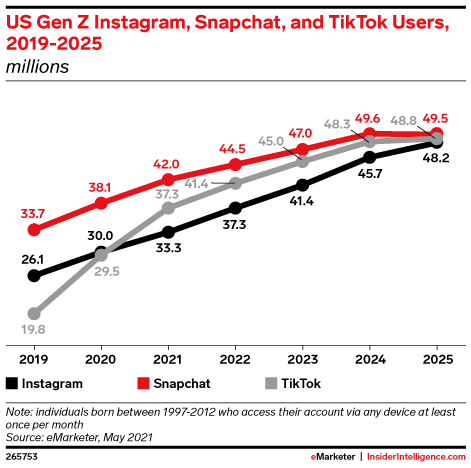 With 37.3 million users compared to Instagram's 33.3 million, TikTok has officially eclipsed Instagram in popularity among Gen Z users in the United States (those born between 1997 and 2012).
But that's not the only big spending demographic that is increasingly embracing TikTok. in Q1 of 2022, 36% of TikTok users were between 35 and 54 years old, compared to 26% in 2020.
TikTok is Still Female Skewed
57% of TikTok's users are women globally. For TikTok users in the US, that percentage jumps to 61%.
Even if TikTok's user base is becoming more varied, marketers looking to appeal to younger female audiences will probably have the best of luck.
US Adults Still Have Mixed Opinions About TikTok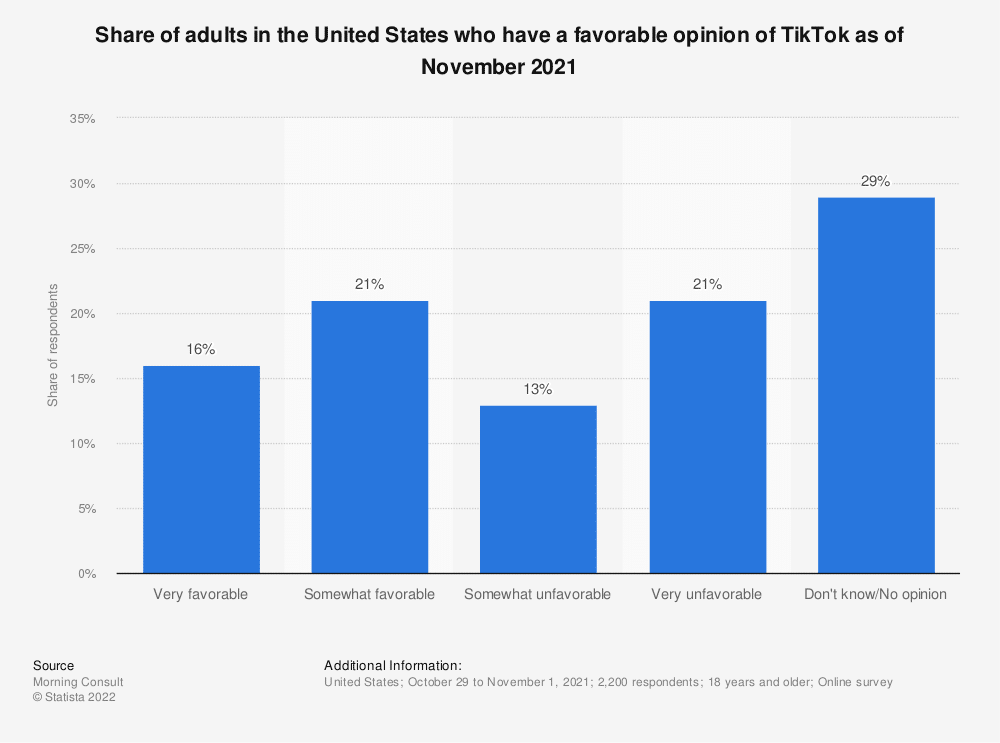 TikTok has its critics; in the US, 34% of adults have negative views of the app, compared to 37% who have positive ones. This is more divisive than other platforms; Take Instagram: 24% of adults regard it negatively, while 50% of adults think it's a good thing. 55% of people have a favourable opinion of Facebook, while 39% do not.
However, those are very broad 'over 18' figures, and things change when you break down the TikTok approval statistics by demographic.  
In comparison to 35 to 44-year-olds and 45 to 64-year-olds, TikTok is viewed favourably by 59% of those aged 18 to 34 and by 40% and 31%, respectively. In general, older demographics are less trusting of the platform than younger ones.
This caution might be a result of the platform's connection with upsetting material. In December 2021, parents and kids were alarmed as a hoax about school violence quickly circulated on TikTok. Videos advocating quick weight loss are just one example of the dangerous and misleading information that has grown on the platform and attracted criticism.
In order to improve safety, TikTok responded by announcing revisions to their Community Guidelines in February 2022. They have pledged to remove harmful information from the network, paying special attention to anything that encourages violent behaviour, eating disorders, or self-harm.
TikTok Boasts the Best Social Media User Engagement - By a Long Way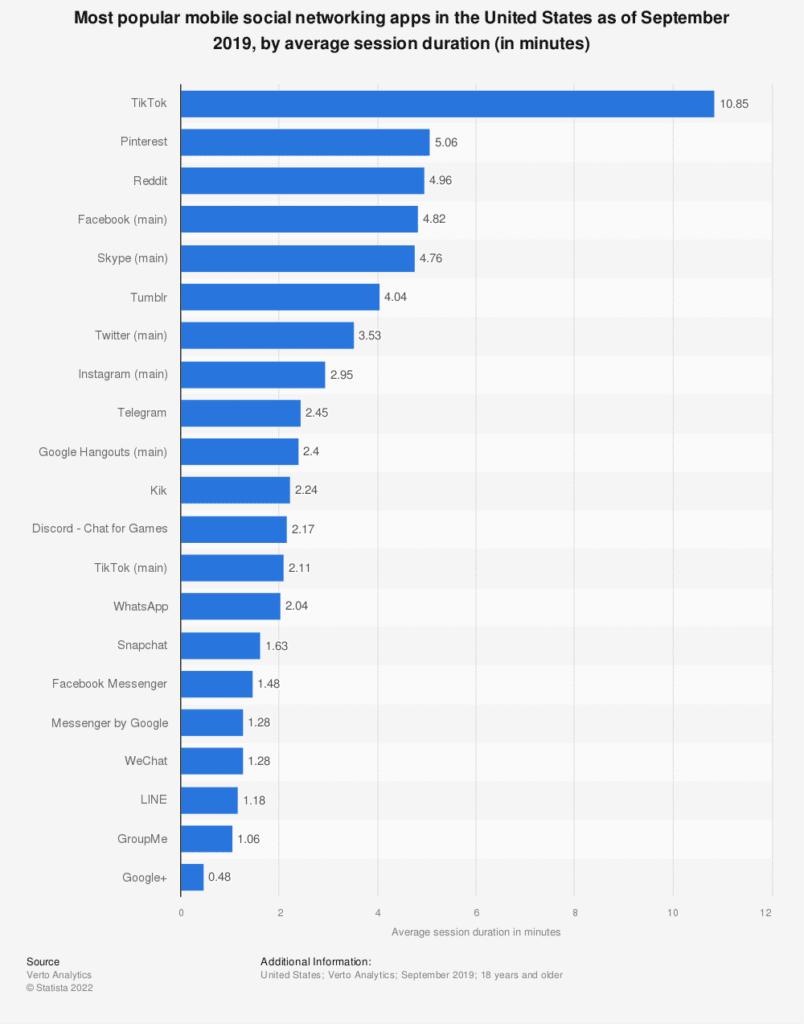 Anyone who has opened TikTok to just watch one video only to come back an hour later wondering where the time went can speak to the app's ability to keep users interested. In fact, TikTok has the longest user sessions of any social media app, clocking in at 10.85 minutes on average.
The second-most engaging app, Pinterest, has a session length of 5.06 minutes, so the average TikTok session is more than twice as long as that. At 2.95 minutes for each session, it's also more than three times as long as users generally spend on Instagram.
Nine Out of Ten TikTok Users Visit at Least Once a Day
Official TikTok statistics show that the app's users are devoted and frequently utilize it. In fact, 90% of users use the app more than once daily.
TikTok Users are Actively Commenting and Sharing
Many marketers get frustrated in their social media marketing efforts because it seems so hard to get users to comment on and share their content, rather than just reading or 'liking it. That's often not the case for TikTok.
In a study, 54% of users stated they had commented on someone else's video in the past week, while 50% stated that they had shared a video, often on another social media platform.
Most People Go to TikTok to Laugh and Be Entertained
The majority of respondents to the 2022 GlobalWebIndex poll stated that they use TikTok mostly to locate, and watch, humorous or entertaining content.
The second most frequent TikTok habit is posting or sharing content, while the third most frequent is following the news. Comparatively, the most popular use of Instagram and Snapchat was for content posting. Therefore, it may be reasonable to conclude that TikTok's main selling feature, particularly in terms of consumption, is its entertainment value.
Instagram, Pinterest, Reddit, Twitter, and Snapchat are some other social media platforms where users stated they went to find amusing or interesting material. However, the only two apps where that use case scored first were TikTok and Reddit.
Users Like the New Longer Videos, and They Watch Them All the Way Though
Users of TikTok had a 60-second time limit on their videos up until recently. However, TikTok started allowing users to upload videos up to three minutes long in July 2021, and then that was boosted to 10 minutes in 2022.
Longer videos, defined as those lasting longer than a minute, have already surpassed five billion global views, according to a TikTok study from October 2021. Users in Vietnam, Thailand, and Japan prefer longer videos, while those in the US, UK, and Brazil are the most engaged in them.
In November 2021, TikTok launched TikTok TV, giving consumers more options for watching videos. Given that more than half of YouTube viewers watch videos on a TV screen, TikTok is probably going to experience a similar boost in audience size and activity very soon.
FinanceTikTok is Exploding
The What's Next Report 2022 from TikTok claims that subjects like cryptocurrency, investing, and all things financial had a very successful year. Views of videos with the hashtag #NFT increased by a mind-boggling 93,000% from 2020 to 2021. Another trending topic, #crypto, attracted 1.9 billion videos. The #TikTokDogeCoinChallenge is an example of how TikTok's wild inclinations affect financial concerns.
Traditional finance topics feature too. On the app, there is also a vibrant and expanding personal finance community that offers 'tips and tricks for a wide range of demographics. 
Even if your business has nothing to do with finance, FinTok's expansion shows that any sector can establish itself on the app provided they produce high-quality content. You can be sure that your target market is using the app, no matter what niche your business may serve.
Although TikTok is frequently dismissed as foolish entertainment, users, especially young ones, use it as a forum to educate themselves. Short, approachable video material offers a gateway into subjects like #inflation (which also had a 1900% rise in views last year) that could otherwise be daunting or hard to understand. 
TikTok for Business Statistics
TikTok is Tops for Social Consumer Spend
TikTok has surpassed Tinder to become the most effective app for increasing consumer spending, according to AppAnnie.
In 2021, consumer spending on TikTok grew by a staggering 77%. In total, users of the app spent $2.3 billion, up from $1.3 billion the year before.
TikTok Ads Reach 17.9% off Over 18 Internet Users
TikTok Ads' reach is impressive too. With a reach of 25% of female users aged 18 to 24, and 17.9% of male users, TikTok Ads have the greatest impact on Gen Z users.
Reach varies by nation; a TikTok ad may be seen by 130,962,500 Americans or 50.3% of adults in the country. The US, Indonesia, Brazil, Russia, and Mexico have the largest potential advertising markets.
TikTok Creators Make a Big Difference
One of the most valuable resources for marketers on TikTok is its official influencers, the creators. Through the TikTok Creator Marketplace, brands can collaborate with over 100,000 creators to produce content that appeals to their target consumers. Users gain from this just as much as brands do: 35% of users learn about items and brands through creators, and 65% of users appreciate when creators post about such things.
In one case study, the cosmetics company Benefit collaborated with TikTok creators to advertise their brand-new Brow Micro filling Pen. The 22 videos that resulted, produced by Gen Z and Millennial creators, received over 3500 hours of viewing and garnered 1.4 million impressions.
TikTok's 'Infinite Loop' is Transforming Online Shopping
The TikTok community has a lengthy history of influencing consumers' purchasing decisions. Look no further than the TikTok Feta Effect for proof. However, up until recently, customers would learn about a product using the app and then go somewhere else to make their purchase.
When TikTok and Shopify announced a new partnership to enable in-app shopping in August 2021, everything changed.
However, the move goes beyond just click-to-buy. In contrast to a marketing funnel, TikTok views the retail process as an infinite loop. In other words, after a consumer makes a purchase, the experience doesn't "stop"; instead, it cycles back on itself as they post about it, provide feedback, and inform their own friends and family. One in five users creates a tutorial video after making a purchase, and one in four users posts about their new purchase.
And there are, of course, plenty of TikTok statistics to back this up.
67% of TikTok Users Say They Were Inspired to Shop, Even When They Did Not Plan To
The strength of TikTok's effect on users' purchasing behaviours is revealed by the company's own study into user behaviour. Aside from that 67% statistic, 37 per cent of people who find a product on the app wants to buy it right away.
The TikTok Feta Effect is at work here: 29% of users have attempted to purchase something from the app only to discover that it was already sold out. It makes sense that in 2021, the hashtag #TikTokMadeMeBuyIt received over 7.4 billion views.
The Best Performing eCommerce Videos are Less Than 35 Seconds Long
Want people to buy from you on TikTok? Keep your videos short. The best performing 'shoppable' videos are between 24 and 35 seconds long. Videos with captions often perform better as well.
Want more TikTok statistics and marketing tips? Get in touch, we'll be happy to help.